For nearly 30 years, IRCAD has grown and flourished thanks to a network of over 800 expert surgeons who are recognized as international opinion leaders. 
Without them, IRCAD would not be what it is today. That is why I would like to thank them very warmly.  
Thanks to their incredible professional skills, marked by great human values, their dynamism and their investment in the development of our on-site and online training courses, our Institute has been able to perpetuate and reinforce its place as an institute of excellence in the field of minimally invasive surgery training.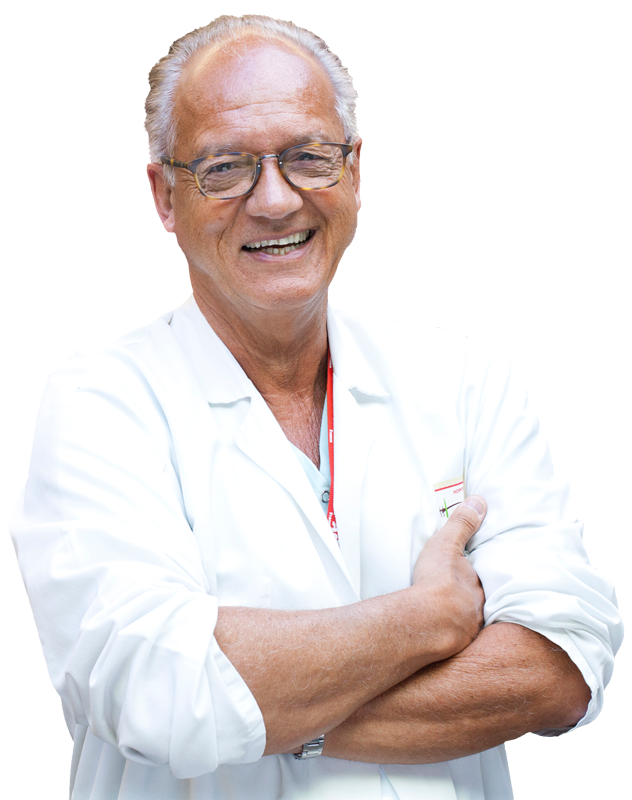 Select a specialty of your choice to view the faculty panel
Reset filter >

Type

Intensive courses

5-day course

Advanced courses

1 to 5-day course

Others
Please, select a specialty.
Faculty panel in anesthesiology
P. Diemunsch (FR)
M. Aziz (US)
T.H. Barnes (GB)
A. Charton (FR)
J. Charton (FR)
C. Chauvin (FR)
C.H. Chen (TW)
J.M. Constantin (FR)
A. De Jong (FR)
S. Diemunsch (FR)
T.J. Gan (US)
D. Graff (FR)
L. Grunebaum (FR)
S. Jaber (FR)
W. Habre (CH)
M. Hengen (LU)
M. Kristensen (DK)
O. Langeron (FR)
P.O. Ludes (FR)
A. Meyer (FR)
E. Noll (FR)
M. Ohana (FR)
A. Patel (GB)
J. Pottecher (FR)
J.D. Ricard (FR)
L. Sattler (FR)
M. Singer (GB)
M. Skinner (AU)
K. Torp (US)
J.L. Vincent (BE)
K. Zacharowski (DE)
Faculty panel in bariatric surgery
S. Perretta (IT)
M. Vix (FR)
J. Alves Terra (BR)
F. Andreelli (FR)
P. Angelos (US)
G. Ballantyne (US)
L.V. Berti (BR)
H. Buchwald (US)
G.B. Cadiere (BE)
A. Cardoso Ramos (BR)
J.M. Chevallier (FR)
P. Chowbey (IN)
C. Copaescu (RO)
G. Costamagna (IT)
P. Crookes (US)
G. Dakin (US)
B. Dallemagne (BE)
M. Delvaux (FR)
A.L. De Paula (BR)
L.G. De Quadros (BR)
B. Dillemans (BE)
C.E. Domene (BR)
G. Donatelli (IT)
A. D'Urso (IT)
L. El Kadre (BR)
A. Escalona (CL)
M. Galvao Neto (BR)
D. Herron (US)
K. Higa (US)
J. Himpens (BE)
J. Hochberger (DE)
C.K. Huang (TW)
V. Huberty (BE)
K. Kasama (JP)
L. Katz (US)
N. Kawahara (BR)
K. Kim (US)
A. Lacy (ES)
W.J. Lee (TW)
C. Le Roux (GB)
G. Lopez Nava (ES)
E. Machytka (CZ)
K. Miller (AT)
J. Morton (US)
D. Mutter (FR)
D. Nocca (FR)
A. Okrainec (CA)
F. Pattou (FR)
T. Piardi (IT)
A. Pomp (US)
G. Präger (AT)
A. Pryor (US)
R. Ribeiro (PT)
P. Schauer (US)
N. Scopinaro (IT)
S. Shah (IN)
M. Suter (CH)
L. Swanström (US)
A. Talvane de Oliveira (BR)
E. Targarona (ES)
A. Torres (ES)
L.A. Vieira D'Almeida (BR)
R. Zorron (DE)
Faculty panel in hernia repair
D. Mutter (FR)
A. Park (US)
M. Bailey (GB)
F. Becmeur (FR)
I. Belyansky (US)
T. Bisgaard (NL)
R. Bittner (DE)
J. Bonjer (NL)
B. Dallemagne (BE)
M. Furtado (BR)
J. Jeekel (NL)
M. Lopes Furtado (BR)
M. Miserez (BE)
S. Morales-Conde (ES)
M. Nahabedian (US)
C.D. Narayanan (IN)
S. Perretta (IT)
A. Petter-Puchner (AT)
V. Radu (RO)
B. Ramshaw (US)
D. Singh (US)
M. Vix (FR)
Faculty panel in pediatric surgery
F. Becmeur (FR)
A. Bonnard (FR)
A. El Ghoneimi (FR)
A. Al Junaibi (AE)
T. Blanc (FR)
D. Cabezali (SP)
F. Chiarenza (IT)
R. Chrzan (PL)
J. Correia Pinto (PT)
P. De Coppi (UK)
E. De Mattos e Silva (BR)
J. Dingenman (DE)
Z. Dokumcu (TR)
C. Esposito (IT)
E. Faller (FR)
A. Garcia Vazquez (SP)
C. Gomes-Ferreira (LU)
S. Irtan (FR)
A. Lehn (FR)
M. Lindeboom (NL)
P.J. Lopez (CL)
R. Moog (FR)
M. Mendoza-Sagaon (CH)
I. Mushtaq (UK)
D. Patkowski (PL)
P. Philippe (LU)
A. Scalabre (FR)
I. Talon (FR)
F. Varlet (FR)
Faculty panel in endocrine surgery
No faculty panel in 2022. Please contact contact us for more information.
Faculty panel in skull base surgery
S. Froelich (FR)
C. Debry (FR)
O. Al-Mefty (US)
K.A. Aziz (US)
A. Bazin (FR)
R. Behr (DE)
H. Bertalanffy (DE)
L. Borba (BR)
G. Bovis (US)
O. Bozinov (CH)
G. Brassier (FR)
M. Bruneau (BE)
R. Carrau (US)
J. Casselman (BE)
L. Cavallo (IT)
C. Chaalala (CA)
P.O. Champagne (CA)
W.C. Chang (TW)
A. Chays (FR)
S. Chibbaro (FR)
T. Civit (FR)
C. Clara (BR)
J. Cornelius (DE)
V. Couloigner (FR)
J.C. De Battista (AR)
A.R. Dehdashti (US)
A. Delitala (IT)
P. Di Russo (IT)
J.L. Dietemann (FR)
I. Djennaoui (FR)
H. Dufour (FR)
A. Fava (IT)
M. Fornari (IT)
H.D. Fournier (FR)
T. Fukushima (US)
S. Gaillard (FR)
P. Gardner (US)
E. Gay (FR)
F. Gentili (CA)
B. George (FR)
L. Giammattei (FR)
L. Gilan (FR)
A.W. Grande (DE)
M. Guk (UA)
S. Hanakita (JP)
P. Herman (FR)
M. Hitier (FR)
N. Hopf (DE)
E. Houdart (FR)
E. Jouanneau (FR)
I. Kanaan (SA)
R. Kania (FR)
C. Karekezi (RW)
J.T. Keller (US)
M. Kohno (JP)
F. Kolb (FR)
D.S. Kong (KR)
M. Labidi (CA)
L. Laccourreye (FR)
J.A. Landeiro (BR)
K.S. Lee (KR)
J. Lehmberg (DE)
S. Lieber (DE)
M.J. Link (US)
C.F. Litre (FR)
J. Liu (US)
D. Locatelli (IT)
D. Lubbe (ZA)
V. Martino (IT)
C. Martins (BR)
T. Mathiesen (DK)
D. Mazzatenta (IT)
M. McDermott (US)
T. Meling (NO)
J. Morcos (US)
S. Muneza (RW)
K. Ohata (JP)
A. Olivi (IT)
K. Oyama (JP)
H.H. Park (KR)
E. Pasquini (IT)
T. Passeri (FR)
M.L. Pensak (US)
F. Pessina (IT)
L. Poulsgaard (DK)
S. Puget (FR)
I. Radovanovic (CA)
S.M. Raza (US)
L. Regli (CH)
R. Reisch (CH)
P.H. Roche (FR)
P. Rousseaux (FR)
A. Samii (DE)
D. Scavarda (FR)
K. Schaller (CH)
S. Schmerber (FR)
H. Schroeder (DE)
R. Sekula (US)
A. Sendegeya (RW)
A. Serrie (FR)
C.C. Shen (TW)
E. Simon (FR)
D. Solari (IT)
A. Stamm (BR)
A. Sufianov (RU)
C. Teo (AU)
L-M. Terrier (FR)
J.M. Tew (US)
P.V. Theodosopoulos (US)
N. Thomas (GB)
F. Tomasello (IT)
P. Tran Ba Huy (FR)
Y.K. Tu (TW)
P. Vajkoczy (DE)
H.R. Van Loveren (US)
K. VanOverbeeke (NL)
F. Veillon (FR)
E. Vellutini (BR)
E. Voormolen (NL)
K. Watanabe (JP)
Y. Yakkioui (NL)
A.S. Youssef (US)
F. Zenga (IT)
W. Zhu (CN)
L. Zimmer (US)
M. Zuccarello (IT)
Faculty panel in ENT surgery
A. Charpiot (FR)
L. Haddad (BR)
F.L. Martinho Haddad (BR)
F. Montevecchi (IT)
P. Schultz (FR)
J.P. Valente (BR)
C. Vicini (IT)
Faculty panel in thoracic surgery
J.M. Baste (FR)
D. Gossot (FR)
P.E. Falcoz (FR)
K. Amer (GB)
T. Batchelor (GB)
F. Becmeur (FR)
G. Boddaert (FR)
I. Bouabdallah (FR)
D. Boulate (FR)
E. Brian (FR)
H. Decaluwé (BE)
J. Dunning (GB)
M. Durand (FR)
R. Flores (US)
D. Gonzalez Rivas (ES)
M. Grigoroiu (RO)
B. Heger (FR)
C.C. Huang (TW)
S. Jheon (KR)
T. Kohno (JP)
F. Melfi (IT)
D. Oh (US)
P.B. Pages (FR)
C. Peillon (FR)
R. Petersen (DK)
K. Pfeuty (FR)
A. Seguin (FR)
A. Sihoe (HK)
S. Swanson (US)
M. Tedde (BR)
P.A. Thomas (FR)
G. Veronesi (IT)
W. Walker (UK)
J.M. Wihlm (FR)
H.S. Wu (TW)
K. Yasufuku (CA)
Faculty panel in upper-GI surgery
J. Marescaux (FR, RW)
B. Babic (DE)
I. Broeders (NL)
Y.K. Chao (TW)
B. Dallemagne (BE)
H. Fuchs (DE)
K. Fuchs (DE)
W.J. Hyung (KR)
S. Perretta (IT)
S. Preston (GB)
J.P. Ruurda (NL)
R. Van Hillegersberg (NL)
Faculty panel in arthroscopy
E.M. Baur (DE)
M. Burnier (FR)
J.-M. Cognet (FR)
M. Gras (FR)
J.R. Haugstvedt (NO)
M. Levadoux (FR)
G. Mantovani (BR)
O. Mares (FR)
C. Mathoulin (FR)
L. Merlini (FR)
R. Van Riet (BE)
A. Amundsen (NO)
T. Apard (FR)
M. Arianni (ID)
A. Arnaout (FR)
P. Arrigoni (IT)
A. Atzei (IT)
A. Badia (US)
N. Badur (CH)
G. Bain (AU)
R. Barco (SP)
S. Berner (US)
A.K.M. Bhat (IN)
J. Bo (CN)
N. Borisch (DE)
J. Branco (PT)
D. Buford (US)
N. Buschmeier (DE)
P. Caekebeke (BE)
M. Calcagni (CH)
M. Caloia (AR)
C. Camps (FR)
E. Camus (FR)
G. Candelier (FR)
Y. Carlier (FR)
M. Carozzo (IT)
A. Cerlier (FR)
S. Chen (CN)
A. Chin (SG)
G. Clembosky (AR)
T. Cobb (US)
H. Coert (NL)
G. Cohen (FR)
J. Compson (GB)
F. Corella (ES)
M. Cromheecke (BE)
F. Da Rin (IT)
P. Delgado (ES)
P. Del Pinal (ES)
L. De Smet (BE)
P. Desmoineaux (FR)
C. Dumontier (FR)
A. Durand (FR)
J. Ecker (AU)
L. Erhard (FR)
M. Esplugas (ES)
M. Etzner (SE)
D. Eygendaal (NL)
S. Facca (FR)
D. Fernandez (CH)
M. Fok (HK)
D. Fontes (FR)
R. French (CA)
M. Garcia-Elias (ES)
J. Garret (FR)
A. Gay (FR)
W. Geissler (US)
A. Ghezzi (IT)
T. Giesen (CH)
I. Golubev (RU)
J. Goubau (BE)
P. Grieve (IE)
M. Haerle (DE)
G. Herzberg (FR)
P.C. Ho (HK)
M. Hoegele (DE)
U. Hug (CH)
A. Ikram (ZA)
S. Jiang (CN)
P. Jorgsholm (DK)
B. Jurbala (US)
D. Karadaglis (GB)
R. Kebrle (CZ)
S. Kluge (CH)
H. Krimmer (DE)
D. Kumar Jain (IN)
M. Langer (DE)
F. Lebailly (FR)
G. Leblebicioglu (TR)
C. Leclercq (FR)
T. Lindau (GB)
B. Liu (CN)
A. Lluch (ES)
R. Luchetti (IT)
C-K. Mak (HK)
Y. Marjoua (US)
X. Martinache (FR)
P. Mansat (FR)
M. Massarella (IT)
J. Messina (IT)
J. Mota Da Costa (PT)
F. Moungondo (BE)
A. Muratore (BR)
T. Nakamura (JP)
S. Nazerani (IR)
F. Nienstedt (DE)
P. Nowicki (PL)
S. O'Driscoll (US)
M. Obdeijn (NL)
K. Oestreich (DE)
I.B. Özcelik (TR)
M. Phillips (GB)
K-J. Prommersberger (DE)
R. Rahimtoola (GB)
M. Rawlins (FI)
M. Richter (DE)
I. Rigo (NO)
C. Rizzo (FR)
M. Rongieres (FR)
M. Rosenwasser (US)
M. Ross (US)
P. Roure (FR)
P. Samson (FR)
N. Schep (NL)
N. Schmelzer-Schmied (CH)
A. Sgarbossa (IT)
T. Shih (TW)
D. Slutsky (US)
A. Smit (ZA)
J. Smith (US)
N. Smith (AU)
F. Suarez (CO)
C. Taleb (FR)
A. Tandara (DE)
F. Teboul (FR)
W.L. Tse (HK)
H.G. Tunnerhoff (DE)
P. Van Hoonacker (BE)
M. Van Nuffel (BE)
L. Van Overstraeten (BE)
H. Van Ransbeek (BE)
J. Van Schoonhoven (DE)
A. Vidil (FR)
A. Wahegaonkar (IN)
A. Wallmon (SE)
D. Warwick (GB)
A. Watts (GB)
M. Wells (ZA)
T. Whipple (US)
W.Y. Wong (HK)
W. Xu (CN)
YD. Yaniv (IL)
D. Yanni (GB)
J. Yao (US)
H. Yin (CN)
A. Zach (DE)
A. Zemirline (FR)
Z. Zhao (CN)
J. Zhu (CN)
Faculty panel in urologic surgery
T. Piechaud (FR)
CC. Abbou (FR)
E. Mandron (FR)
C. Saussine (FR)
R. Van Velthoven (BE)
T. Ahlering (US)
A. Alcaraz (ES)
O. Alenda (FR)
F. Annino (IT)
M. Annerstedt (SW)
W. Artibani (IT)
A.M. Bocciardi (IT)
A. Breda (ES)
X. Cathelineau (FR)
R. Coelho (BR)
P. Coloby (FR)
S. Crivellaro (US)
P. Dasgupta (GB)
A. De La Taille (FR)
L. Donon (FR)
E. Drapier (FR)
T. Dujardin (CA)
E. Ferreira Faria (BR)
F. Gaboardi (IT)
X. Gamé (FR)
R. Gaston (FR)
I.S. Gill (US)
B. Guillonneau (FR)
J.L. Hoepffner (FR)
A. Hoznek (FR)
J. Hubert (FR)
G. Janetschek (AT)
G. Kyriakou (GR)
H. Lang (FR)
L. Lopez (FR)
R. Mallet (FR)
L. Martinez Pineiro (ES)
B. Mauroy (FR)
A. Mejean (FR)
A. Messas (FR)
P. Mouly (FR)
M. Oderda (IT)
V. Patel (US)
A. Rane (GB)
J. Rassweiler (DE)
K.H. Rha (KR)
P. Rischmann (FR)
C.H. Rochat (CH)
F. Rozet (FR)
N. Soomro (GB)
M. Soulie (FR)
C. Sternberg (IT)
K. Touijer (US)
C. Vaessen (FR)
H. Van Poppel (BE)
A. Villers (FR)
R. Villet (FR)
P. Wiklund (SE)
C.H. Wu (TW)
W.M. Abou Chedid (LB)
R. Atme (LB)
M. Beringi (IT)
V. Corona Montes (MX)
M. Cortegoso Gonzalez (ES)
F. Curto (IT)
A. D'Orazio (AR)
E. El Helou (LB)
C. Fraga-Pereira (BR)
R. Guida (BR)
B. Lopes Cancado (BR)
R. Mazloum (LB)
T. Mendonca (GB)
B. Moussa (LB)
A. Pansadoro (IT)
P. Ramirez (ES)
M. Rocha (BR)
E. Romero Selas (ES)
A. Russo (IT)
S. Smelzo (IT)
Faculty panel in interventional GI endoscopy
G. Costamagna (IT)
H. Inoue (JP)
G. Andrisani (IT)
A. Arezzo (IT)
M. Barthet (FR)
A. Becq (FR)
F. Berr (DE)
I. Boskoski (IT)
P. Bulois (FR)
G.B. Cadiere (FR)
A. Charachon (FR)
H. Chung (KR)
J. Cohen (US)
W. Colaiacovo (BR)
E. Coron (FR)
D. Coumaros (FR)
B. Dallemagne (BE)
M. Delvaux (FR)
P. Deprez (BE)
J. Deviere (BE)
G. Donatelli (IT)
R. Dumas (FR)
B. Dunkin (US)
P. Familiari (IT)
I. Fassler (FR)
B. Filoche (FR)
N. Fukami (US)
M. Galvao Neto (BR)
S. Godat (CH)
F. Habersetzer (FR)
M. Häfner (AT)
J. Hamanaka (JP)
D. Howell (US)
J. Huppertz (FR)
J. Jacques (FR)
M. Jung (DE)
A. Kalloo (US)
G. Kaehler (DE)
R. Kiesslich (DE)
T. Lankisch (DE)
H.A. Lehr (DE)
A. Lemmers (BE)
O. Le Moine (BE)
P. Levy (FR)
M. Maier (DE)
J. Maiss (DE)
M. Man-I (JP)
H. Manner (DE)
A. May (DE)
P.N. Meier (DE)
H. Messmann (DE)
H. Minami (JP)
H. Neumann (DE)
T. Oyama (JP)
L. Palazzo (FR)
O. Pech (DE)
M. Perez-Miranda (ES)
S. Perretta (IT)
L. Petruzziello (IT)
H. Piessevaux (BE)
J. Pohl (DE)
T. Ponchon (FR)
F. Prat (FR)
T. Roesch (DE)
S. Sacher-Huvelin (FR)
Y. Saito (JP)
P. Sakai (BR)
J.C. Saurin (FR)
D. Sautereau (FR)
H.J. Schulz (DE)
B. Schumacher (DE)
S. Seewald (DE)
L. Sosa Valencia (VE)
C. Spada (IT)
L. Swanström (US)
H. Tajiri (JP)
M. Tantau (RO)
T. Toyonaga (JP)
M. Vieth (DE)
N. Yahagi (JP)
H. Yamamoto (JP)
Faculty panel in hepatobiliary and pancreatic surgery
N. Demartines (CH)
D. Mutter (FR)
O. Andriani (AR)
R. Araujo (BR)
H. Asbun (US)
J. Belghiti (FR)
P. Bertulucci (BR)
D. Birk (DE)
Y.J. Chao (TW)
C.L. Chen (TW)
K.H. Chen (TW)
D. Cherqui (FR)
A. Cho (JP)
G.H. Choi (KR)
C. Conrad (US)
R. Cotta-Pereira (BR)
A. Cury (BR)
B. Dallemagne (BE)
C. De Jong (NL)
J. Dong (CN)
I. Endo (JP)
O. Farges (FR)
D. Fuks (FR)
M. Gimenez (AR)
P.C. Giulianotti (US)
N. Habib (GB)
H.S. Han (KR)
P. Hansen (US)
P. Herman (BR)
M. Hogg (US)
G. Honda (JP)
H. Kaneko (JP)
S. Katagiri (JP)
D. Kooby (US)
C.H.D. Kwon (KR)
C. Lacerda (BR)
M. Li (HK)
C.W. Lin (TW)
J. Martinie (US)
R. Memeo (IT)
M. Nagino (JP)
M. Nakamura (JP)
H. Nitta (JP)
B. Odisio (US)
T. Ohta (JP)
Y. Otsuka (JP)
M. Pai (GB)
J. Pekolj (AR)
C. Peng (CN)
L.L. Pereira (BR)
P. Pessaux (FR)
T. Piardi (IT)
L. Poggi (PE)
A. Resende (BR)
A. Sa-Cunha (FR)
R. Sanchez Claria (AR)
M. Sanhueza (CL)
O. Scatton (FR)
S. Shrikhande (IN)
O. Soubrane (FR)
A. Sugioka (JP)
M. Tanabe (JP)
C.N. Tang (HK)
J. Terra (BR)
A. Tinoco (BR)
A. Torres De Oliveira (BR)
L.Q.A. Tuan (VN)
K. Uesaka (JP)
M. Unno (JP)
G. Wakabayashi (JP)
X. Wang (CN)
H. Weiss (AT)
M. Yamamoto (JP)
Faculty panel in colorectal, transanal & proctological surgery
J. Marescaux (FR, RW)
A. Forgione (IT)
R.J. Heald (GB)
P. Meinero (IT)
A. Melani (BR)
E. Parra Davila (US)
X. Serra Aracil (ES)
G. Spinoglio (IT)
P. Sylla (US)
H. Abcarian (US)
M. Adamina (CH)
P. Ambrosetti (CH)
C. Bailey (GB)
R. Barthelemy (FR)
P. Bianchi (IT)
L. Boni (IT)
G. Brown (GB)
R. Cahill (IE)
T. Cecil (GB)
M. Chand (GB)
P. Chasserant (FR)
T.Z. Chen (TW)
G. Choi (KR)
P.K. Chowbey (IN)
C. Copaescu (RO)
F. Corcione (IT)
G. Costamagna (IT)
M. Costedio (US)
F. Crafa (IT)
E. Croce (IT)
P. Dalmonte (IT)
G. Dapri (BE)
N. Demartines (CH)
H. De Vries (NL)
A. D'Hoore (BE)
A. D'Urso (IT)
M. Diana (IT)
M. Edye (US)
J.-L. Faucheron (FR)
D. Fowler (US)
E. Ganio (IT)
V. Giaccaglia (AE)
P. Giamundo (IT)
B. Gignoux (FR)
P. Giulianotti (US)
M. Gudgeon (GB)
D. Hahnloser (CH)
R. Hompes (NL)
C. Huscher (IT)
M. Ito (JP)
C. Jehaes (BE)
R. Kennedy (GB)
S.H. Kim (KR)
D. Koh (SG)
S. Larach (US)
W.L. Law (HK)
M. Li (HK)
P. Marcello (US)
J. Marks (US)
C.A. Martinez (BR)
K. Matzel (DE)
M. Mistrangelo (IT)
J. Monson (US)
S.C. Nahas (BR)
G. Naldini (IT)
J. Nogueras (US)
J. Okuda (JP)
M.S. Ouertani (BE)
C. Palanivelu (IN)
Y.A. Park (KR)
A. Parvaiz (GB)
R. Perez (BR)
C. Ponzano (IT)
J. Pupo Neto (BR)
C. Ratto (IT)
F. Remzi (US)
B. Roche (CH)
T. Rockall (GB)
A. Rojanasakul (TH)
L. Romagnolo (BR)
P. Rouanet (FR)
E. Rullier (FR)
B. Salky (US)
R. Scherer (DE)
F. Seow-Choen (SG)
A. Shamiyeh (AT)
D. Smith (US)
A. Spinelli (IT)
H. Van der Walt (ZA)
B. Van Geluwe (BE)
M. Walz (DE)
J. Warusavitarne (GB)
M. Watanabe (JP)
S. Wexner (US)
R. Whelan (US)
M. Whiteford (US)
M.H. Zheng (CN)
Faculty panel in general surgery
J. Marescaux (FR, RW)
B. Dallemagne (BE)
D. Mutter (FR)
S. Perretta (IT)
M. Vix (FR)
M.E. Bailey (UK)
F. Corcione (IT)
G. Dapri (BE)
N. Demartines (CH)
M. Diana (IT)
A. D'Urso (IT)
A. Forgione (IT)
M. Gimenez (AR)
W. Huang (TW)
W.J. Hyung (KR)
C. Lin (TW)
A. Melani (BR)
R. Memeo (IT)
P. Miccoli (IT)
S. Morales-Conde (SP)
B. Navez (BE)
L. Romagnolo (BR)
L. Soler (FR)
L. Swanström (US)
A. Torres de Oliveira (BR)
C.N. Tang (HK)
M. Walz (DE)
H.K. Yang (KR)
Faculty panel in gynecologic surgery
A. Wattiez (FR)
M.S. Abrao (BR)
N. Abu-Rustum (US)
D. Adamson (US)
L. Adamyan (RU)
K. Afors (GB)
C.Y. Akladios (FR)
J. Albornoz (CL)
B. Al-Maamari (AE)
J. Alcocer (MX)
S. Alsuwaidi (AE)
J. Alves (PT)
B. Amro (PS)
S. Angioni (IT)
I. Argay (HU)
F. Asencio (BR)
A. Audebert (FR)
P. Ayrosa Galvao Ribeiro (BR)
S. Barata (PT)
F. Barbieri (IT)
P. Bartos (CZ)
E. Baulon (FR)
A. Beliard (BE)
S. Bettocchi (IT)
V. Bezhenar (RU)
P. Bonnet (BE)
R. Botchorishvili (FR)
A. Brill (US)
H. Brolmann (NL)
S. Brucker (DE)
M. Busacca (IT)
R. Campo (BE)
M. Canis (FR)
J. Carvalho (PT)
J. Castellano (VE)
M. Ceccaroni (IT)
V. Cela (IT)
G. Centini (IT)
C. Chapron (FR)
IT. Chua (SG)
P. Collinet (FR)
M. Cosson (FR)
S. Courdier (FR)
L. Cravello (FR)
A. De Bruin (ZA)
C. De Cicco (IT)
F. De Cicco (IT)
M. Degueldre (BE)
J. Dequesne (CH)
C. Di Stefano (IT)
J. Donnez (BE)
J.B. Dubuisson (CH)
J. Einarsson (US)
C. Exacoustos (IT)
E. Faller (FR)
J. Faria (PT)
A. Fauconnier (FR)
R. Fernandes (BR)
C. Fernandez (CL)
E. Fernandez (CL)
H. Fernandez (FR)
H. Ferreira Carvalho (PT)
G. Ferron (FR)
A. Fiaccavento (IT)
V. Frenna (IT)
A. Furtado Lima (PT)
B. Gabriel (DE)
O. Garbin (FR)
R. Garry (GB)
P. George (BE)
H. Gharbi (TN)
J. Gilabert-Estelles (ES)
G. Giraudet (FR)
M. Goldenberg (IL)
V. Gomel (CA)
N. Habib (LB)
C. Haddad (BR)
D. Hamid (FR)
J. Hamou (FR)
M. Hummel (FR)
M. Ibrahim (EG)
K. Isaacson (US)
B. Jacquetin (FR)
G. Janik (US)
J. Keckstein (AT)
A. Kent (GB)
S. Kiselev (RU)
C. Koh (US)
P. Koninckx (BE)
E. Kovoor (GB)
F. Kridelka (BE)
S. Landi (IT)
J.F. Lapray (FR)
E. Leblanc (FR)
F. Lecuru (FR)
C-L. Lee (TW)
T. Lee (US)
L. Leo (IT)
A. Liceaga Fuentes (MX)
C.Y. Liu (US)
F. Loffer (US)
A. Luciano (US)
T. Lyons (US)
P. Madelenat (FR)
G. Mage (FR)
A. Magos (GB)
J. Magrina (US)
S. Maia (PT)
M. Malzoni (IT)
P. Mangeshikar (IN)
H. Margossian (AE)
R. Mashiach (IL)
S. Mashiach (IL)
J.E. McVeigh (GB)
L. Mencaglia (IT)
L. Mereu (IT)
L. Mettler (DE)
C. Meza Paul (VE)
J. Miklos (US)
R. Milani (IT)
C.E. Miller (US)
L. Minelli (IT)
I. Miranda Mendoza (CL)
R. Modi (IN)
M. Moore (US)
M. Mueller (CH)
R. Murtada (FR)
F. Narducci (FR)
R. Nasir (AE)
J. Nassif (LB)
J. Navarro-Pando (SP)
K. Neis (DE)
P. Nervo (BE)
CE. Nezhat (US)
F. Nezhat (US)
CA. Nehzat (US)
I. Nisand (FR)
M. Nisolle (BE)
G. Noe (DE)
P. O'Donovan (GB)
E. Ohana (IL)
F. Osorio (PT)
R. Pasic (US)
L. Paulose (IN)
G. Pistofidis (GR)
C. Pomel (FR)
A. Popov (RU)
M. Possover (DE)
J.l. Pouly (FR)
M. Puga (CL)
S. Puntambekar (IN)
D. Querleu (FR)
B. Rabischong (FR)
J. Raiga (MC)
C. Redondo (ES)
H. Reich (US)
B. Rodriguez (FR)
H. Roman (FR)
C. Rongieres (FR)
A. Rossetti (IT)
R. Rovira (ES)
C. Roy (FR)
P. Sagot (FR)
M. Salvatores (IT)
J. Santiago Garcia (ES)
F.R. Sbano (IT)
S. Schettini (IT)
L. Schindler (FR)
L. Schwartz (FR)
A. Setubal (PT)
S. Shtyrov (RU)
O. Sizzi (IT)
E-F. Solomayer (DE)
D. Soriano (IL)
A. Stepanian (US)
C. Sutton (GB)
A. Ternamian (CA)
F. Thaveau (FR)
V. Thoma (FR)
R. Tozzi (IT)
P. Trompoukis (GR)
A. Tsunoda (BR)
A. Ussia (IT)
I. Van Der Wat (ZA)
B. Van Herendael (BE)
A. Vazquez Rodriguez (ES)
L. Videla-Rivero (AR)
P. Von Theobald (FR)
D. Wallwiener (DE)
N. Waters (AU)
A. Watrelot (FR)
R. Zaccoletti (IT)
C. Zacharopoulou (GR)
F. Zullo (IT)
E. Zupi (IT)
Faculty panel in gynecologic oncology surgery
D. Querleu (FR)
C. Akladios (FR)
N. Abu-Rustum (US)
B. Diaz-Feijoo (ES)
T. Boisrame (FR)
M. Diana (IT)
E. Faller (FR)
H. Ferreira Carvalho (PT)
W. Gotlieb (CA)
L. Lecointre (FR)
F. Lecuru (FR)
J. Persson (SE)
A. Van Der Zee (NL)