Getting to IRCAD is so easy!
With many transportation options nearby, getting to IRCAD couldn't be easier. Whether you come by airplane, train or car, Strasbourg is easy to get to.
Make your visit to the IRCAD easier with Maps, Google Maps and Google Earth
Special fares for Lufthansa Group airlines
The airlines of the Lufthansa Group bring people together – every day, all over the world. The worldwide network of Austrian Airlines, Lufthansa, SWISS, Brussels Airlines and Eurowings offers optimal connection and combination possibilities. This means that you will benefit from fast and direct flights to your event.
As an IRCAD course participant, you can benefit from a special discount on your flight to Strasbourg, to attend the course you are registered for. An "event code" will be sent to you by e-mail with your registration confirmation.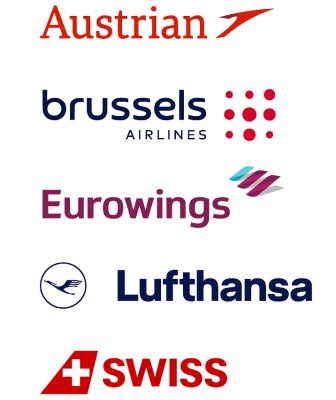 If you are planning to come to Strasbourg by car, we would like to inform you concerning a new regulation.
In France, the "Crit'air" anti-pollution sticker has become mandatory on all motor vehicles, and more particularly in Strasbourg, which is a low emission zone (LEZ). You can purchase your sticker on Le site officiel de la vignette Crit'Air (certificat qualité de l'air) – Ministère de la Transition écologique (it costs about 4.50€) in order to receive it within 15 days by mail.
Vehicles with a "Crit'air 5" sticker are no longer allowed to drive in Strasbourg.
IRCAD within the compounds of the University Hospital of Strasbourg