Editorial
The third issue of the IRCAD newsletter comes to you a few days before the beginning of Blue March, a month of awareness for colorectal cancer screening. This is a reminder of IRCAD's primary mission, which is to conduct research against digestive system cancers.
In 1994, when the Institute was created, we were eager to provide a different response to the needs of research and treatment in the field of digestive cancers. At the time, our project was seen as very original, because our approach was based on the use of computer power and new technologies, such as surgical robotics, to improve both the diagnosis and treatment of these cancers.
Today, our approach has become essential and brings a lot of hope to patients, because it offers the possibility of supporting physicians in their expertise, of increasing the capacities of surgeons – by enlightening their vision and their choices, and by allowing them to perform increasingly precise and less invasive procedures. Although our vision has spread to other therapeutic areas than the digestive area – IRCAD is now recognized worldwide for its teaching and research in more than 15 specialties – digestive cancers, and in particular colorectal cancer, offer a particularly good illustration of how artificial intelligence and new technologies can improve the diagnosis and treatment of cancers.
To talk about this, I'm delighted to introduce Professor Francesco Corcione, Head of the Department of Minimally Invasive General Surgery and Oncology, President Emeritus of the Italian Society of Surgery and member of the National Academy of Surgery, who has been involved in the surgical training programs at IRCAD for more than 25 years.
Professeur Jacques Marescaux
Président et fondateur de l'IRCAD
---
Interview of the month
« The forward momentum of research owes much to entities like IRCAD, which function as catalysts for innovation, propelling progress at a rapid pace. »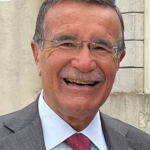 Pr Francesco Corcione,
professor of general surgery at IRCAD and director of the UOC for general surgery
and minimally invasive oncology of the Federico II Hospital in Naples
Professor Francesco Corcione is an internationally renowned surgeon, honorary member of the National Academy of Surgery, author of numerous articles and books dedicated to minimally invasive surgery. At IRCAD, he provides training for surgeons from all over the world, particularly in the field of oncological colorectal surgery. Ahead of Blue March, he outlines the major technological advances in the treatment of colon and rectal cancers.
Professor Corcione, you have been teaching at IRCAD since its creation, what motivates your commitment to the Institute?
IRCAD is a pioneering center with two objectives: to develop training in surgery, and also to contribute to the development of new technologies. In doing so, IRCAD gathers talented people, whether they are researchers or surgeons. It is a forum and a wonderful breeding ground for research and medical progress. Everyone comes with their experience which contributes, thanks to exchange, to the progress of all participants, whether they are in training or trainers themselves. I have been teaching for years at IRCAD, and what strikes me is that I learn at the same time as I teach.
Before Blue March begins, what messages should be conveyed on the prevention of colorectal cancer?
Colorectal cancer is one of the most common cancers and its incidence has continued to grow, in the so-called developed countries, and then in other countries as the way of life has become westernized with an increase in the consumption of meat and alcohol as well as a sedentary lifestyle. It is the third most common cancer in all populations: in women, after breast and lung cancer; in men, after prostate and lung cancer.
It is the second cancer in terms of mortality. However, even though there has been a rise in its occurrence, the fatality rate has remained stable due to the significant advancements in treatments across various fronts: diagnosis (with early detection of tumors), surgery, drug treatments, including targeted therapies.
Early detection is a major area of progress: stool blood tests and colonoscopy are very effective tools for identifying incipient cancers as well as polyps, before they turn into tumors. And these prevention strategies are still progressing, in particular thanks to the contributions of artificial intelligence in the performance of colonoscopy. IRCAD is at the heart of these developments.
How can artificial intelligence improve colonoscopy?
Colonoscopy makes it possible to detect precancerous lesions in people identified as having a risk of cancer, in particular a risk that runs in the family. Some patients who are particularly at risk are therefore offered annual colonoscopies in order to detect precancerous lesions and prevent the occurrence of cancer. However, in a small number of them, it was noted that, despite the frequency of colonoscopies, cancer could occur between two examinations. This means that some small polyps, very aggressive and which can evolve very quickly, are undetectable to the naked eye. This may be due to their very small size or their morphology: it is very difficult to distinguish flat polyps, without relief, which blend, in a way, into the mucosa. This is where artificial intelligence comes in to help the doctor: it analyzes images and manages to detect shades of color that the human eye cannot see. This new innovation is in its infancy, but it is safe to say that it will very quickly become the norm because it will allow to advance disease prevention.
Does this mean that we may one day be able to eradicate colorectal cancer?
I don't think so because there will always be a risk of developing cancer, hence the importance of screening and prevention messages relating to lifestyle habits, but it is obvious that the early detection of tumors makes it possible to change the prognosis. And I am convinced that we will be able to cure this cancer more and more, thanks to the evolution of treatments and to the improvement of the surgery itself. The forward momentum of research owes much to entities like IRCAD, which function as catalysts for innovation.
Which of the innovations developed by IRCAD do you think have had the most significant impact on the treatment of colorectal cancer?
First, there is robotic surgery: IRCAD is a reference in terms of training in the various robotic surgery systems. Robotic surgery offers surgeons greater dexterity and promotes the development of minimally invasive surgery by making it more accessible. The goal is to provide better care while being as minimally invasive as possible.
In this spirit, I am also thinking of other innovations to which the IRCAD has directly contributed: fluorescence techniques that use the injection of fluorophores to improve the visibility of tissues and identify underlying structures. They allow the surgeon to better distinguish the surgical environment in real time: the tumor that he is resecting, with the advantage of improving the resection and provide better treatment for the patient – or the hidden organs – which reduces the risk of injury due to the surgery and consequently of sequelae. Improving visualization is essential: surgical errors are often linked to errors in the interpretation of anatomy.
And to avoid interpretation errors, the reconstruction of the patient in 3 dimensions combined with simulation are decisive assets. Making a clone of the patient allows to visualize and simulate the different surgical strategies in order to choose the best possible approach. This is what the company Visible Patient proposes, with a technology initially developed at IRCAD. This allows to guide the surgeon during the intervention, leading to a higher likelihood of achieving the desired outcome of the surgery and ultimately improving the patient's prognosis
About IRCAD
Established in 1994 by Professor Jacques Marescaux, IRCAD is a specialized institution focused on advancing research and training in the field of minimally invasive surgery. Based in Strasbourg, IRCAD has gained global recognition for its exceptional training programs, which attract around 8,800 surgeons from across the world annually, both in-person and through the free online Websurg university, boasting over 470,000 registered members worldwide. Stay up-to-date with IRCAD's latest developments on Twitter, Instagram, Facebook or LinkedIn.
For more information: https://www.ircad.fr/
Press contacts:
FINN Partners – sante@finnpartners.com