Editorial
In 2024, IRCAD will celebrate its 30th anniversary, marking three decades of collaboration between surgeons, engineers, and industrialists to advance research and technology. It also signifies thirty years of providing training in minimally invasive surgery, with over 830 sessions organized since 1994.
Since its establishment, IRCAD has welcomed more than 48,000 surgeons from around the globe to participate in its training courses. Additionally, the free Websurg online university, which was launched in 2000, has benefitted 500,000 surgeons worldwide.
The success of IRCAD can be attributed to the high quality of its courses and the invaluable expertise of expert surgeons from various countries who wholeheartedly support its mission. However, this success would not be possible without the contributions of non-scientific individuals who play a vital role in fulfilling the scientific mission. Among them are the audiovisual teams who enable remote training, webinars, and live surgery broadcasts. We must also acknowledge our talented graphic designer, Catherine Cers, who has been a part of our team since 1999 and is the featured guest in this newsletter.
Catherine's exceptional ability to enhance surgical videos and commentaries through her artistic talent and insightful annotations has made complex concepts more accessible to everyone. Her work combines aesthetics and utility, which is not merely a trivial detail. Art, by inspiring us, acts as a catalyst for progress.
Professor Jacques Marescaux
President and founder of IRCAD
---
Interview of the month
When art serves medicine: introducing Catherine Cers, IRCAD's medical illustrator.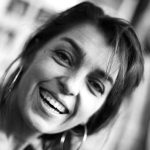 Catherine Cers,
IRCAD's medical illustrator

Throughout the years, and notably during her training at the School of Decorative Arts in Strasbourg, Catherine Cers has developed her expertise in the field of medical illustration. Drawing inspiration from renowned Fauvist artists, the Musée d'Orsay, Art Nouveau, as well as masters like Toulouse-Lautrec and Da Vinci, Catherine, who has been a part of IRCAD and WebSurg for nearly 25 years, shares how her passion for art led her to discover a deep fascination for medicine.
How would you summarize your role?
As a medical illustrator, my primary objective is to create informative visuals that enhance the impact of scientific messages. Many of these visuals are utilized to illustrate and enrich the content of the free WebSurg online university, established by IRCAD in 2000 to provide training in minimally invasive surgery to healthcare professionals worldwide. On a daily basis, doctors approach me directly to discuss their requirements. It typically takes me an entire day to produce precise and detailed drawings or a series of diagrams using digital tablets and software like Illustrator or Photoshop. My illustrations are further employed in medical publications or integrated into didactic surgical videos to elucidate standardized or innovative surgical techniques.
How did you embark on the path of becoming a medical illustrator?
I commenced my training at Villa Arson art school in Nice. In addition to the curriculum offered at the School of Decorative Arts, each student was required to undertake a personal project. In my case, I chose to focus on "the human body," which led me, with the assistance of a young doctor who was also a friend, to observe dissections conducted at the Faculty of Medicine in Nice. I spent numerous hours there, diligently attempting to replicate and gradually comprehend anatomy. Through regular collaboration with a young surgeon who also served as an anatomy professor, he unexpectedly offered to assist me with illustrations depicting the classification of spinal fractures. This unexpected opportunity resulted in my first publication in the Cahiers de la Société Française de Chirurgie Orthopédique et Traumatologique (SOFCOT). Subsequently, the surgeon invited me to join him in the operating room, where I provided assistance during a total hip replacement (THR). Captivated by the experience, I utilized my free time to observe trauma procedures or engage in dissection whenever possible. It was during this period that I stumbled upon a brochure from a prosthesis manufacturer featuring aesthetically pleasing didactic drawings, which made me realize that this was the path I wanted to pursue. I discovered that a highly specialized course in medical illustration was available at the the School of Decorative Arts. In 1986, I enrolled at the Strasbourg School of Decorative Arts, a reputable institution in this field, where I completed my final years of training under the guidance of Pierre Kuentz in his studio. Simultaneously, I attended courses at Strasbourg's Faculty of Medicine to validate my knowledge of human anatomy, learning from anatomy professors and gaining practical experience through hospital internships. Ultimately, I obtained my diploma in medical illustration.
What motivated your decision to join IRCAD?
After gaining several years of experience as a freelance illustrator, primarily working on projects for school textbooks and scientific publications, I was presented with an opportunity to join the Institute in 1999. The prospect of engaging with novel subjects, innovative surgical techniques, and collaborating with a team, as opposed to working independently as I had before, greatly appealed to me.
What do you enjoy most about working at IRCAD?
One aspect I particularly value at IRCAD is the constant dialogue and close interaction with teams and doctors, from whom I learn something new every day. The diversity of subjects is what truly inspires me. I am never confined to working on the same topic for an extended period. Each month, I create illustrations for the WebSurg online university newsletter. For instance, in June, I focused on the pancreas and liver. Doctors especially appreciate the artistic dimension, which adds another layer to the technical and medical content. Occasionally, I have the privilege of working on original projects. For instance, I was recently entrusted with the task of creating anatomical frescoes to adorn the walls of the new robotics platform—an exceptional and thrilling project that allowed me to fully unleash my creativity in embellishing the IRCAD premises. What I find most gratifying is the opportunity to channel my imagination while simultaneously contributing to the training of doctors.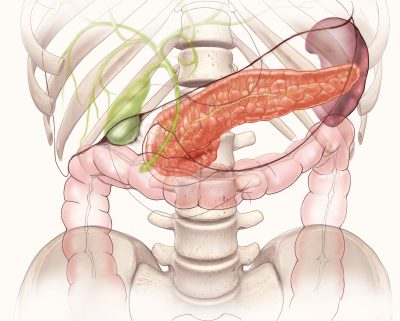 Medical illustration of organ transparency, by Catherine Cers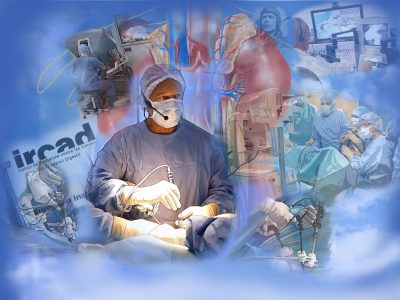 Medical illustration depicting Pr Jacques Marescaux
in the operating room, by Catherine Cers
About IRCAD:
Established in 1994 by Professor Jacques Marescaux, IRCAD is a specialized institution focused on advancing research and training in the field of minimally invasive surgery. Based in Strasbourg, IRCAD has gained global recognition for its exceptional training programs, which attract around 8,800 surgeons from across the world annually, both in-person and through the free online Websurg university, boasting over 470,000 registered members worldwide. Stay up-to-date with IRCAD's latest developments on Twitter, Instagram, Facebook or LinkedIn.
For more information: https://www.ircad.fr/
Press contacts:
FINN Partners – sante@finnpartners.com