Editorial
In recognition of Green June, the month dedicated to cervical cancer prevention, we have decided to devote this latest edition of the IRCAD newsletter to the field of gynecology, focusing specifically on surgical oncology. We are privileged to feature Professor Denis Querleu, an esteemed specialist in gynecological oncology and a distinguished lecturer at IRCAD.
Gynecological surgery has played a crucial role in the advancement of minimally invasive procedures, credited to the pioneering work of French gynecologist Raoul Palmer, who invented laparoscopy in the 1940s. Palmer, a trailblazer in tubal surgery for infertility treatment, observed that patients often underwent laparotomy (abdominal opening) without a precise diagnosis, leading to futile interventions due to the limited medical capabilities of the era. To mitigate these unnecessary procedures, diagnostic laparoscopy emerged as a solution, subsequently paving the path for surgical laparoscopy.
Laparoscopy, hailed as the "second French revolution" during its inception, marked the advent of minimally invasive surgery, establishing the bedrock for the continuous advancements in modern surgical practices. Following this initial surgical revolution, a second revolution emerged in the form of robotic surgery, which remains in its early stages today. Subsequently, the field witnessed a third surgical revolution, characterized by scar-free techniques using endoscopy, percutaneous radiofrequency surgery, or cryotherapy, as highlighted in our previous newsletter.
These ongoing revolutions, propelled by remarkable advancements in artificial intelligence, contribute to the resolute pursuit of a patient-centric and adaptable approach to medicine. This evolution aims to intervene at earlier stages to prevent diseases, impede their progression, and mitigate potential consequences. With each passing day, medicine progresses further, propelled by the dedication and expertise of researchers and educators at IRCAD, who are steadfast in their commitment to advancing the field.
Professor Jacques Marescaux
President and founder of IRCAD
---
Interview of the month
Our mission is to enhance the prevention, diagnosis, and treatment of women's cancers through comprehensive research, education, and accessible public information.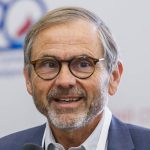 Pr Denis Querleu,
Chirurgien gynécologue
Professor Denis Querleu is an esteemed expert in the field of gynecological oncological surgery. With a notable background as the former president of the European Society of Gynecological Oncology, a visiting professor at Rome's Gemelli University Hospital, and a consultant at Strasbourg's IHU, he has been actively engaged with IRCAD for over 25 years. Professor Querleu imparts his extensive knowledge by conducting courses on gynecological oncology at the institute in Strasbourg and contributing to the WebSurg online university. Additionally, he plays an integral role in the IRCAD Africa project, further demonstrating his commitment to advancing surgical education and care on a global scale.
Professor Denis Querleu, what motivated your decision to join IRCAD?
Professor Denis Querleu: I was initially drawn to IRCAD when I attended its inauguration nearly 30 years ago, as I was personally invited by Professor Jacques Marescaux. The institute's vision fascinated me, as it was pioneering in multiple aspects. Not only was minimally invasive surgery still in its early stages back then, but IRCAD's unique multidisciplinary approach, encompassing the collaboration of doctors, engineers, and computer scientists, was truly ahead of its time. Given these factors, it felt only natural for me to become a part of this remarkable project.
Gynecological surgery has played a pioneering role in the development of minimally invasive surgical techniques. What can we learn from its experience?
In the field of gynecological oncology, minimally invasive surgery techniques have significantly matured. Over the past two decades, numerous randomized trials have compared the outcomes of minimally invasive surgery with open surgery for various indications.
For endometrial (uterine) cancer, substantial evidence consistently indicates that minimally invasive surgery outperforms open surgery in terms of both treatment efficacy and improved quality of life. Endoscopy yields superior results, especially for morbidly obese women.
In the case of ovarian cancer, laparoscopy has been particularly valuable in the diagnostic exploration of the disease. It helps determine lesion sites and assess the operability of the cancer. Additionally, the administration of chemotherapy before surgery to shrink the tumor may enable the use of minimally invasive surgery when a complete response is achieved.
Regarding cervical cancer, an initial trial conducted five years ago comparing minimally invasive surgery with open surgery did not favor the former. However, ongoing trials are incorporating specific technical precautions to minimize the risk of tumor cell contamination during surgery. Evaluation of these modified approaches is still in progress.
What technological advancements have contributed to the progress of gynecological oncology?
One significant development is robotic surgery, although it is still considered in its early stages. Currently, the specific advantages of robotic surgery over laparoscopic surgery are yet to be definitively proven. Furthermore, existing robotic systems merely replicate human movements. However, it is anticipated that future advancements in robotic surgery will enable us to explore new surgical approaches and push the boundaries of innovation.
Another notable technological advancement involves techniques aimed at enhancing tumor site identification using visual tracers, with indocyanine green being the most well-known today. IRCAD has played a significant role in conducting research in this area and has established a prominent position in terms of concepts and principles. These tracers facilitate the visualization of tumor contamination and are particularly useful in identifying the sentinel lymph node. Looking ahead, the development of fluorescent tracers combined with more cancer-specific molecules holds promise for further enhancing treatment outcomes.
As we commence Green June, the dedicated month for cervical cancer prevention and awareness, what key messages would you like to emphasize?
Cervical cancer stands as one of the most prevalent cancers affecting women globally. The majority of cases occur in low- and middle-income countries, making prevention a critical public health concern. The World Health Organization (WHO) has embarked on a strategy to eliminate cervical cancer, encompassing three targets to be achieved by 2030:
Vaccination of 90% of young girls

Screening of 70% of women

Treatment of 90% of detected precancerous lesions or advanced cancers
Our surgical interventions come into play at the third target, where concerted efforts are required to provide comprehensive training to healthcare professionals worldwide. In this regard, IRCAD Africa assumes a significant role by training African surgeons in cervical cancer surgery. The exchange of knowledge and experiences between African surgeons and their counterparts from countries with fewer cases of advanced cancers will undoubtedly be mutually beneficial.
The first two targets highlighted by the WHO underscore the importance of raising global public awareness. In France, for instance, only 41.5% of young girls are vaccinated, in stark contrast to the 90% vaccination rate in Australia.
To address these challenges, it is crucial to organize awareness-raising initiatives such as dedicated action days. Recently, IRCAD participated in illuminating its buildings in the colors symbolizing cervical cancer prevention at the behest of the WHO. Additionally, information-sharing events like this newsletter play a significant role in disseminating crucial knowledge about cervical cancer prevention.
About IRCAD:
Established in 1994 by Professor Jacques Marescaux, IRCAD is a specialized institution focused on advancing research and training in the field of minimally invasive surgery. Based in Strasbourg, IRCAD has gained global recognition for its exceptional training programs, which attract around 8,800 surgeons from across the world annually, both in-person and through the free online Websurg university, boasting over 470,000 registered members worldwide. Stay up-to-date with IRCAD's latest developments on Twitter, Instagram, Facebook or LinkedIn.
For more information: https://www.ircad.fr/
Contacts for the press:
FINN Partners – sante@finnpartners.com