Editorial
Just a few days before European Prostate Day (September 20), we would like to introduce Dr. Thierry Piéchaud, a urological surgeon who has been a part of IRCAD since its inception. Urology was one of the first surgical disciplines to pioneer minimally invasive surgery, initially through conventional (manual) laparoscopy and later through robotic surgery, with the goal of providing benefits to patients such as reduced scarring, decreased bleeding, less pain, and faster recovery. Thierry Piéchaud recognized the advantages of this surgical approach early on and has been associated with IRCAD since its inception. He initially established a dedicated minimally invasive surgery course for urology and subsequently developed distinct courses for various urological subspecialties, including prostate, kidney, and the treatment of pelvic organ prolapse. Today, he serves as the director of the Institute's urology course, attracting over 150 surgeons from around the world each year.
At IRCAD, teaching in urology, as in all other disciplines, is structured around a combination of theoretical presentations and practical sessions conducted in state-of-the-art robotic suites. With a total area of 1,303 square meters and a projected 29 surgical robots by the end of 2024, IRCAD stands as the largest robotics platform globally. This achievement has been made possible thanks to the close and trusted relationships we have cultivated with international industrial partners such as Intuitive Surgical, Medtronic, CMR Surgical, Momentis Surgical, Endoquest, and soon Medicaroid. This represents a valuable resource for both professors and surgeons seeking to enhance their surgical procedures.
Professor Jacques Marescaux
President and Founder of IRCAD
Professor Jacques Marescaux
President and Founder of IRCAD
---
Interview of the month
Urology, a leading specialty in the field of minimally invasive surgery, takes center stage on European Prostate Day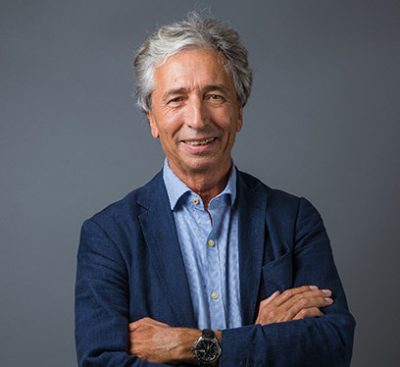 Dr Thierry Piéchaud
Urological surgeon & Director of the urology course at IRCAD France
Urologist, a member of the Association française d'urologie (French Urology Association), and currently serving as the Head of Clinical Research at the Elsan Group, Dr. Thierry Piéchaud holds the position of Director for the Urology Course at IRCAD. He has been associated with this Strasbourg-based institute since its inception. Dr. Piéchaud reflects on the advancements that laparoscopy and robotic surgery have brought to his field, particularly in the management of prostate pathologies. He also emphasizes the pivotal role played by IRCAD in disseminating these advancements to benefit patients.
Dr. Piéchaud, as European Prostate Day approaches, could you provide an overview of the primary pathologies?
Dr. Thierry Piéchaud: The prostate is a component of the male genital tract, responsible for synthesizing prostatic fluid and facilitating sperm emission. It is intricately connected to the urinary system, as it is traversed by the urethral canal. This underscores the potential impact of prostate pathologies on sexual and urinary functions, highlighting the need for surgical precision. Prostate pathologies come in various forms:
Obstructive, with implications for urination in the case of benign prostatic hypertrophy, which develops in the center of the prostate gland.
Cancerous, typically originating in the peripheral part of the prostate gland.
Infectious, characterized by prostatitis.
All three are under the purview of the urologist, who is a specialist in both medicine and surgery. However, in the context of this article about IRCAD, we will focus on pathologies that are amenable to laparoscopic or robotic surgery and endoscopy, namely HPB and cancer.
You were one of the pioneering surgeons to embark on the IRCAD journey. What inspired you?
Dr. Th. P.: Following the first laparoscopic operation performed in France in 1987 by Dr. Philippe Mouret, laparoscopic surgery began to evolve. In the subsequent years, around 1992, laparoscopic surgery made its debut in urology, with its initial application in the treatment of pelvic cancer through lymph node curage. The prospect of offering this alternative to patients was invigorating: instead of resorting to extensive midline incisions, we could utilize small openings, employing the laparoscopic technique that had previously been untapped in urology. Consequently, in Bordeaux, alongside Dr. Richard Gaston, we were among the pioneering teams of urologists who embarked on the development of laparoscopy in urology.
At the same time, Professor Jacques Marescaux recognized that laparoscopy represented the path to the future of surgical excellence and that surgeons needed training in this field. Shortly after the Institute's inauguration in 1994, he extended an invitation to me to present our work. Starting in 1995, I became a regular guest lecturer in the courses, and witnessing the significant interest generated among urologists, we eventually established the first course exclusively dedicated to laparoscopic urological surgery. Today, IRCAD, which offers training across various urological sub-disciplines (including prostate surgery), stands as a prominent educational institution on the international stage in the field of urological surgery, particularly in prostate surgery. The institute provides comprehensive training encompassing both theoretical and practical aspects of various surgical approaches, whether laparoscopic, robotic, or endoscopic, contributing significantly to the advancement of these minimally invasive techniques, especially in prostate surgery. Allow me to illustrate the global reach of IRCAD with just one example: during our last training session in June 2023, we had participants from no less than 27 different nationalities. Today, IRCAD draws surgeons from around the world due to its status as the world's largest teaching facility for robotic surgery and, more broadly, minimally invasive surgery, effectively bridging theory and practice.
What are IRCAD's significant contributions to training in these surgical techniques?
The structured and standardized training provided by IRCAD empowers surgeons to enhance their skills, and an improvement in a surgeon's technique invariably translates to benefits for the patient. This holds particular significance for surgeries like those involving the prostate, as the organ's location in the anatomy can impact sexual and urinary functions.
IRCAD primarily focuses its training efforts on prostate cancer surgery, emphasizing the radical prostatectomy technique (complete removal of the cancer-afflicted prostate) and, when necessary, lymph node curage, which is essential for specific cancer cases. These procedures are conducted using either conventional laparoscopy or robotic surgery. The institute has even established an intensive robotic surgery course to expedite progress in this field.
In the realm of benign prostatic hypertrophy, IRCAD offers training in less invasive techniques such as flexible endoscopic laser surgery, which is considerably gentler on the patient compared to more traditional surgical approaches.
In general, the development of the concept of minimally invasive surgery has an immediate impact on the quality of patient care: when minimally invasive surgery is well executed (and it cannot be well executed without specific training), it theoretically reduces or limits bleeding and postoperative pain. Theoretically, because there is no abdominal muscular incision, it allows for a faster return of intestinal function and reduces the respiratory impact of the procedure in elderly patients, compared to open surgery. Minimally invasive surgery can, therefore, be conducted in a minimally traumatic manner, reducing the duration of postoperative recovery.
Minimally invasive surgery has brought significant benefits to patients in your field. How do you envision the future of surgery?
In my view, the future of surgery will be shaped by advances in artificial intelligence, which will complement the technical aspects. We can already discuss the concept of virtuality, which involves the ability to reconstruct the patient's condition to prepare for the operation, explore different strategies and techniques, or simulation, enabling us to practice the procedure on a digital replica before performing it on the patient. These innovations have been developed by IRCAD's R&D teams. What remains on the horizon, and what the IRCAD teams are actively working on, is the fusion of robotics and artificial intelligence: this will not only improve the surgical procedure through the analysis of a vast number of operations, providing insights to guide the surgeon in decision-making and execution (learning machines), but also – in the foreseeable future – assist in performing the procedure itself (driving machines).
About IRCAD
Founded in 1994 by Professor Jacques Marescaux, IRCAD is an institute dedicated to training and research in minimally invasive surgery. This Strasbourg-based institute is globally recognized for the excellence of its training programs, which serve nearly 8,800 surgeons from around the world each year. Additionally, IRCAD offers virtual training through the Websurg online university, which is entirely free of charge and has over 470,000 members connected worldwide.
For more information, please visit https://www.ircad.com
We hope you enjoy reading the eighth issue of the IRCAD newsletter.
For further inquiries or to subscribe/unsubscribe:
FINN Partners – sante@finnpartners.com