IRCAD Africa has opened in Kigali, Rwanda, with a mission to combine research and innovation with surgeon training in order to enhance access to healthcare not only in Africa but also worldwide.

Strasbourg, October 10, 2023 – On Saturday, October 7, 2023, IRCAD Africa, a mirror institute of IRCAD France (Strasbourg), was inaugurated in the presence of Rwanda's President, Paul Kagame. This marks the establishment of the first African center of excellence solely devoted to training and research & development in the realm of minimally invasive surgery. It adds to the existing five IRCAD mirror institutes worldwide and paves the way for the upcoming openings of IRCAD China, IRCAD America, and IRCAD India.
IRCAD Africa aspires to elevate the standard of healthcare across the African continent through two primary avenues:
Training surgeons from various African regions in minimally invasive surgery. Notably, the inaugural digestive surgery course held from October 2 to 6 attracted participants from 15 sub-Saharan African countries.
Advancing research and development through the Disrumpere project (Disrumpere: Democratization of automatic diagnosis, screening, biometrics and augmented percutaneous surgery assisted by artificial intelligence). This initiative seeks to democratize access to tumor diagnosis, monitoring, and treatment by employing cost-effective equipment and harnessing the power of artificial intelligence to reduce reliance on skilled operators. The ultimate goal is to address the scarcity of medical professionals in underserved areas in Africa and worldwide.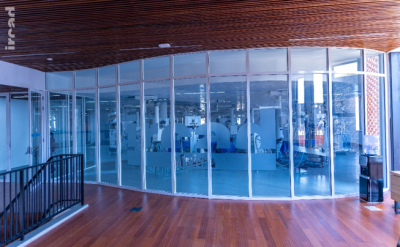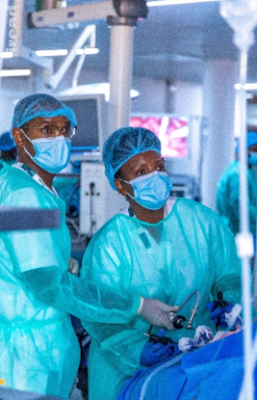 On the left, the 15-table laparoscopy lab, on the right, surgeons in training.
The Disrumpere research project is being advanced through the collective expertise of Franco-Rwandan teams comprising clinicians, engineers, and artificial intelligence specialists. Rwanda boasts a pool of experts in mathematics and computer science, who have received their training from internationally renowned institutions such as Carnegie Mellon University (CMU) in Computer Science and the African Institute of Sciences Rwanda (AIMS). The Disrumpere initiative commenced nearly three years ago, and its research efforts have already yielded tangible, operational innovations. Notably, the obstetrics component of the project received approval for clinical implementation on October 7, 2023, and will commence in the coming weeks. Expectations include publications by the end of 2024.
To democratize access to healthcare, Disrumpere employs ultrasound technology to develop cost-effective medical imaging assisted by artificial intelligence, accessible even to non-experts through portable probes. Ultrasound technology offers several advantages, including:
Real-time imaging, crucial for guiding biopsies or percutaneous surgery.
Absence of ionizing radiation exposure for patients.
Easy transportability.
Professor Jacques Marescaux, founder and Chairman of IRCAD France, underscores the significance of this approach by citing a 2021 World Health Organization report. The report revealed that despite its vital role in diagnosing, monitoring, and treating numerous diseases, as well as in preventive care (especially in the context of pregnancy monitoring, where demand is substantial in Africa), approximately five billion people lack access to medical imaging. Furthermore, approximately two billion people do not have access to even the most fundamental surgical procedures, and minimally invasive surgery remains inadequately accessible worldwide, with particular disparities in Africa.
The research undertaken within Disrumpere and the training programs conducted at IRCAD Africa are poised to significantly enhance access to imaging and minimally invasive surgery. These endeavors have garnered substantial support from various sources, including:
– The Rwandan government, which allocated $26 million for the construction of the facility.
– Sponsorship from companies in the Grand-Est region and Rwandan patrons.
– Contributions from medical device manufacturers, including Metronic, Karl Storz, Intuitive Surgical, and Pentax.
– Funding commitment of 200,000 euros from the Agence Française de Développement for the first year.
Dr. Guillaume Marescaux, the visionary behind the project, reflects on its origins, stating that the idea emerged during humanitarian missions to Rwanda. Following an initial meeting in Strasbourg with the Rwandan ambassador to France, they established contact with President Kagame. The President quickly embraced the initiative, recognizing the potential benefits that IRCAD Africa could bring not only to the people of Rwanda but also to the broader sub-Saharan African region. This pivotal moment occurred in 2017, and the project was subsequently launched. Research and development teams swiftly rallied behind the Disrumpere project. Today, as the inaugural training session progresses successfully and the project advances, all teams come together within the newly inaugurated facility. This achievement is a source of immense satisfaction for both Rwandans and the French.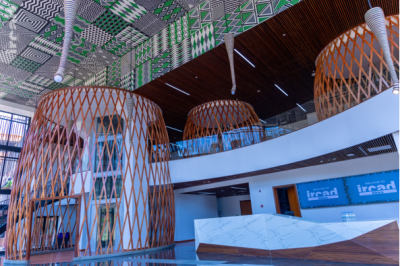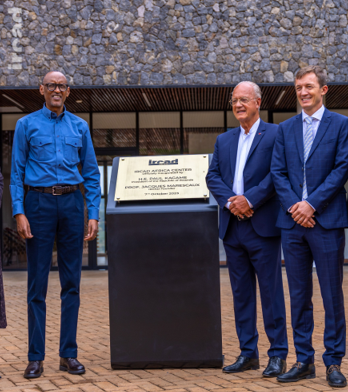 On the left, IRCAD Africa's entrance; on the right, President Paul Kagame, Professor Jacques Marescaux, and Doctor Guillaume Marescaux unveil the plaque.
IRCAD Africa serves as the central component of a broader initiative known as Kigali Health City. This comprehensive project is designed to encompass a hospital, biotechnology facilities, universities, and a hotel complex, catering to experts and trainee surgeons. Dr. King Kayondo, President of IRCAD Africa, highlights Kigali's status as Africa's second-largest convention venue and the vision for Kigali Health City to evolve into a regional hub for research and healthcare. Within this context, IRCAD Africa will play a pivotal role in surgeon training.
___________________________________________________________________
Disrumpere:
commencement of pregnancy follow-up clinical trial, a landmark achievement.
The Disrumpere project is a collaborative effort involving a dedicated Franco-Rwandan team of 20-30 members. Its key components include:
The diagnosis and monitoring component focuses on developing high-performance algorithms to facilitate the detection of common pathologies during examinations.
The robotics component aims to democratize percutaneous surgery employing ultrasound guidance for biopsies or the treatment of small cancerous tumors using needles.
The Franco-Rwandan research teams utilize cost-effective portable ultrasound probes, priced at a few thousand euros. This is significantly less expensive compared to premium hospital ultrasound scanners, which are ten times more costly, or conventional scanners and MRI machines, which exceed the cost by over 100 times. Additionally, location probes are integrated, making the examination accessible to non-experts. Alexandre Hostettler, Head of Surgical Data Science Team at IRCAD France & IRCAD Africa, emphasizes the portability and user-friendliness of these probes, stating that they have the potential to overcome obstacles in medical monitoring where there is a shortage of doctors and well-equipped care centers. Ultrasound offers several advantages, including the absence of X-ray use, suitability for screening, diagnosis, monitoring, biometrics (especially fetal biometrics), and guiding percutaneous surgeries such as biopsies and early-stage tumor destruction. Its real-time imaging capabilities make it advantageous for guiding robot-assisted percutaneous surgical procedures.
The technology developed within Disrumpere not only enhances the monitoring of chronic diseases, including cancer, but also addresses the insufficiency of medical professionals and equipment for widespread pregnancy monitoring, particularly in Rwanda and sub-Saharan Africa.
The Disrumpere project has created an application that allows non-experts to conduct a fetal biometry ultrasound examination in just a few minutes. By automating measurements of femur length, abdominal circumference, and brain circumference taken during the first three months of pregnancy, this application accurately determines the pregnancy term. This information is vital for organizing care and ensuring the proper development of the fetus.
Clinical trials of the application are set to commence in the coming days or weeks, involving 1,000 to 3,000 women. These trials will compare the performance of the "augmented" probe developed as part of Disrumpere with that of a hospital ultrasound scanner. In addition to assessing performance, these trials will provide women with access to examinations that are currently not readily available. Ultimately, the goal is to offer and organize pregnancy monitoring for less than 10 dollars, not only in Rwanda but also in broader contexts.

Press contact:
FINN Partners
sante@finnpartners.com
Véronique Simon-Cluzel +33 6 68 86 32 30
Aurélia Adloff +33 6 89 38 94 70